We're excited that you've chosen to build and invest in Starkville.
Whether you need electric or water service connected to your new home or building, want to upgrade your service or relocate facilities, or need new infrastructure, Starkville Utilities is here to help.
We'll guide you through the process and dedicate staff members to your project to ensure all of your utility needs are addressed.
To get started, please contact the building/planning department at City Hall at 662-323-2525.
Other helpful links:
Building Department at City Hall (Building Permits)
Minimum Design Criteria for Mississippi public water systems
Guidance for the Design of Publicly Owned Wastewater Facilities
National Fire Safety Electrical Code
Once you're ready to build, make sure you are able to receive water, sewer, and electric service in a timely manner by submitting appropriate forms to Starkville Utilities.
Water
The tap estimate request form must be completed and approved prior to completing the application for service.
Application for Utility Service
To get a water meter, please complete both forms.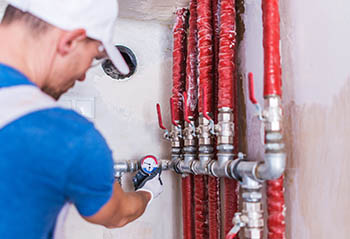 The Application for Service form is an agreement stating that you are the responsible party and will be billed for water that is used and for the meter until you terminate/transfer service.
Once you complete the form and submit it to Starkville Utilities, you will receive an invoice estimate for work within two to four business days. No work can begin until this invoice is paid.
After you have paid the invoice at our main office, your tap request will go into our queue and will typically be performed within a two-week timeframe. If you did not fill out an application for service, no meter will be set.
Connecting to hydrants for water:
Our hydrants have a unique thread. Please do not connect to them without an adapter from Starkville Utilities. Please call 662-323-3133 for more information. If you need to access water from a hydrant, you must contact our office to attain a hydrant meter, which requires a deposit and agreement that you'll pay the current water usage rate.
If a water main is struck or there is a water emergency, please call 662-722-0033.
Electric
Following approval from the building department, an application for new utility service must be submitted along with your deposit.
To request a temporary electric meter or an electric meter on a pole, please complete an application for new service. Once the application is submitted, a Customer Service Representative will be able to assist you.
Easement Policies
Learn More